Artist led creative art and craft workshops in our Bassendean Studio, resin art, acrylic art, alcohol ink, sculptor, wood turning, painting, cupcake design and more...
2 structured (yet extremely fun) full hours with our Resident Artist, will get you creating within the first 30 min. We will guide you through techniques such as the "Dirty Pour", the secrets to creating cells and "lacing", whilst making magnificent, abstract artworks!
$245 or grab two for $220.50 each
Create 3 pieces of resin art, while learning a variety of techniques, tips and tricks to achieving the perfect gloss finish. We even have over 100 different pigments, powders, pastes and inks for you to play with.
20 year Resin Art veteran and Professional Artist Will Huntley will explain everything about the products and the process of Resin Art. He will also give you multiple ways to apply the products to achieve different results.
We include a light lunch and refreshments for you to have a small break before working on your final masterpiece.

$305 or grab two for $274.50 each
Resin Art Workshop - Cheese/Tapas Board & Coasters
This 2.5 hour workshop will teach you the basics of resin, and then you'll be creating magnificent useable artwork! A custom made chopping board plus 4 matching coasters.
These make for wonderful gifts and a real kitchen statement piece.
$245 or grab two for $220.50 each
 We can show you how to make your very own beautiful slice of rock…!! Na just kidding! How about your very own beautiful "Resin Geode Tray" or 3, yes you'll get to make 3 on the day. Learn the art of resin and colour mixing to re-create this beautiful rock formation as a trinket tray for your favourite jewellery.

$185 or grab two for $165 each
Alcohol Ink Workshop with Bubbles & Bites
How can you pass up the opportunity to sip on some Bubbles while enjoying our two-hour, fun filled workshop to create your own amazing alcohol ink artworks straight out of the starters box.
In fact, we think you'll be surprised how fast you start creating beautiful abstract artwork, (yes the bubbles help). As we guide you through the process, step by step, you will learn everything from colour combinations and sealing to safety and equipment selection.
$245 or grab two for $220.50 each
During this 4 hour workshop, we will step you through the tricks and techniques you need to create in 3 different mediums, with the last 60 minutes set aside for you to play with your new favorite.
Our medium's of the day will be Alcohol Ink, Acrylic Dirty Pour which is one of the more popular styles. With this medium we will show you how to layer your colour choice of paints and how to apply this to a 300 mm x 300 mm double edge artist stretched canvas.
Resin Art Chopping Board.... So, now that you have tried pouring acrylic paint on a canvas, we will move onto resin art where we will apply a similar principle to a 150 mm x 300 mm hard wood chopping board and 2 coasters.
Perfect as a birthday or Christmas present, or just to say I love you to that someone special. A light lunch or grazing board and drinks is included in this workshop.
$345 or grab two for $310.50 each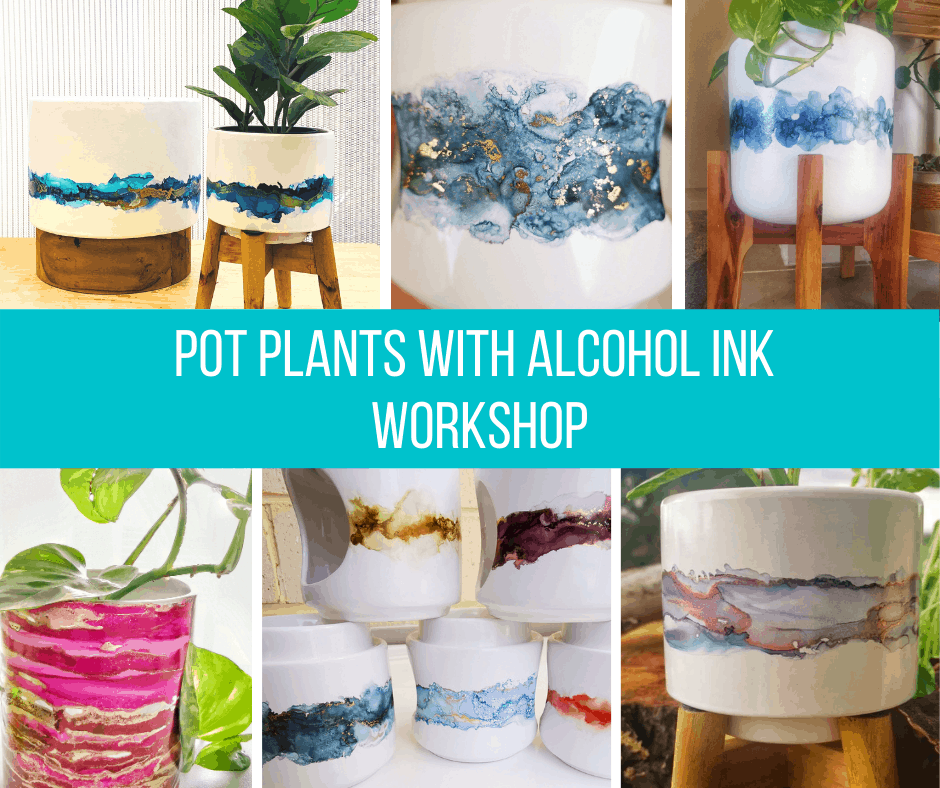 Pot Plant Alcohol Ink Workshop
During this colourful workshop, you will get to experiment with different tools and techniques. Our friendly teachers will guide you step by step through everything from colour combinations and sealing, to safety and equipment selection.
You will have the chance to create multiple pieces/artworks to take home with you on both a small and medium-sized pot. Your finished pieces will make the perfect gift or they can take pride of place in your own space.
 $285 or grab two for $256.50 each
Everyone LOVE's a cupcake!!
Learn how to go from yum to WOW. We'll supply the delicious cupcakes and teach you different techniques using various tips to create professional cupcakes. We'll even teach you how to make swiss meringue buttercream (no bought stuff here).
Take home 12 designer cupcakes to share with family or friends, or eat them all – we won't tell
 $180 or grab two for $165 each

This 2 hour workshop will teach you the basics of resin, and then you'll be creating a magnificent resin clock! We have various designs for you to choose from with matching clock fixtures.
These make for wonderful gifts and are a real statement piece.
 $255 or grab two for $225 each